Back to overview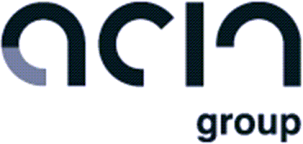 Associate Member
Nominated representative
Tolentino Pereira
Website
Business description
iLink powered by ACIN Group!
ACIN Group is characterised by its focus on innovation and use of new technologies. As such, we are currently an example of success in Portugal and abroad, leading various market segments in the area of cloud computing.
The solutions provided by ACIN are underpinned by a powerful technology infrastructure, consisting of an advanced set of technical and technological solutions. This infrastructure ensures compliance with a number of quality indicators, with an aim to provide a high level of service.
iLink (www.ilink.pt) , an EDI (Electronic Data Interchange) software hosted in the cloud, allows, in a simple and fast way, the sending and receiving of electronic invoices. All documents uploaded on the platform are subject to digital signature verification and timestamping for chronological validation, in order to ensure compliance with all legal requirements inherent to public procurement and/or data exchange between companies. We guarantee, with complete transparency, the indication of the date and time when the document was uploaded, as well as the integrity of its data.
iLink allows the interconnection between suppliers and entities, ensuring the appropriate transmission of invoices (and other invoicing documents).
Business territory
Austria, Belgium, Bulgaria, Croatia, Czech Republic , Denmark, Estonia, Finland, France, Germany, Greece, Hungary, Ireland, Italy, Latvia, Lithuania, Luxembourg, Malta, Netherlands, Poland, Portugal, Romania, Slovakia, Slovenia, Spain, Sweden, United Kingdom