Munich/Brussels, January 2022 — The German Association of Electronic Invoicing (VeR) will present itself as "EESPA Chapter Germany" with immediate effect.
Both organisations share similar objectives to improve the adoption of business document automation in general and e-invoicing in particular. VeR is the representative trade association for e-invoicing in Germany, whereas EESPA represents this industry on European level.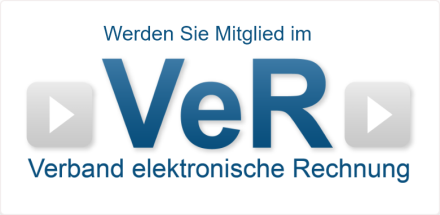 The recent global trend towards Continuous Transaction Controls (CTC) will not only improve tax collection but can also significantly increase business efficiencies, provided the CTC reporting can be combined with full and seamless automated business exchanges through e-invoicing. The e-invoicing industry needs therefore to increase awareness and understanding both on national levels and on a European level.
Recognizing the need to "Think European – Act Locally", EESPA and VeR have agreed to a strategic cooperation through which VeR will position itself in the future also as "EESPA Chapter Germany".
EESPA's Co-Chair Marcus Laube declared: "As a result of this cooperation EESPA strengthens its position as the voice of the vast majority of the European e-Invoicing industry. New regional or local chapters will be established in order to combine a representative European view with strong input from national communities."
"With this new position as the German voice within the European umbrella organization, VeR now has significantly more opportunities to play a key role in shaping the development of e-invoicing in Europe and in representing the interests of German stakeholders" explains VeR board member and representative of the VeR in the EESPA Executive Committee Richard Luthardt.
The agreement, which has been signed on 17 January 2022, offers benefits to both organisations and their respective members through the combination of international and local expertise. The leadership of VeR will attend the EESPA Executive and Working Committees. The agreement also allows members of VeR to become members of EESPA without paying an admission fee.
About the Verband elektronische Rechnung (VeR)
Founded in 2009, the "Verband elektronische Rechnung (VeR), based in Munich, represents the interests of German service providers in the field of electronic invoice and document processing and related companies. The association positions itself as the voice of the entire e-invoicing economy in Germany. On behalf of more than 60 members, the VeR aims to establish e-invoicing as a standard so that companies of all sizes can easily and safely participate in e-invoicing.
More at www.verband-e-rechnung.org
About the European E-Invoicing Service Provider Association (EESPA)
EESPA is the European trade association for a large and dynamic community of E-Invoicing Service Providers, drawn from organisations that provide network, business outsourcing, financial, technology and EDI services. EESPA is an International Not-for-Profit Association (AISBL/IVZW) organised under Belgian law. Formed in 2011 EESPA has over 90 full and associate members. EESPA members process more than 2 billion e-invoices yearly.
More at www.eespa.eu
Press contact VeR
Björn Berensmann, Press Office
Verband elektronische Rechnung (VeR) | Schackstr. 2 | 80539 Munich – Germany
Tel: + 49 (0)89 95 45 754 51 | Fax: + 49 (0)89 95 45 754 69
E-mail: presse@verband-e-rechnung.org
Press contact EESPA
Erik Timmermans, Secretary General
EESPA | Avenue Louise 143/4| 1050 Brussels – Belgium
Tel: +32 16 437 415
E-mail : erik.timmermans@eespa.eu