Back to overview
News from the European Commission: The 2023 eInvoicing Country Factsheets
Substantial enhancements to the eInvoicing Country Factsheets for 2023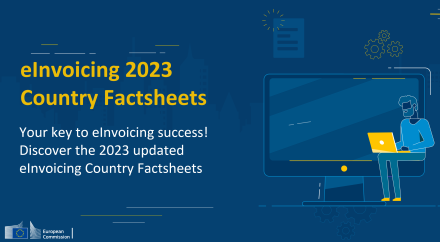 The European Commission eInvoicing DIGITAL building block, announce the newest eInvoicing Country Factsheets, a valuable resource that relies on Member States' expertise and insights and provides a comprehensive understanding of the world of eInvoicing.
Together with Member States' representatives, the European Commission has made substantial enhancements to the eInvoicing Country Factsheets for 2023. They offer a detailed overview of the eInvoicing policy landscape, digital reporting requirements, and other essential aspects crucial to streamlining invoicing processes. Therefore, the DIGITAL eInvoicing Building Block team highly encourages you to explore them. Any multiplication is, of course, welcomed:
Are you a Member State and want to validate your factsheet? Your expertise and insights are vital in ensuring the accuracy and relevance of the country factsheets. If you spot any items that need review or wish to validate your country's factsheet because you have not done so already, you to contact join the eInvoicing User Community and reach out to the team there.